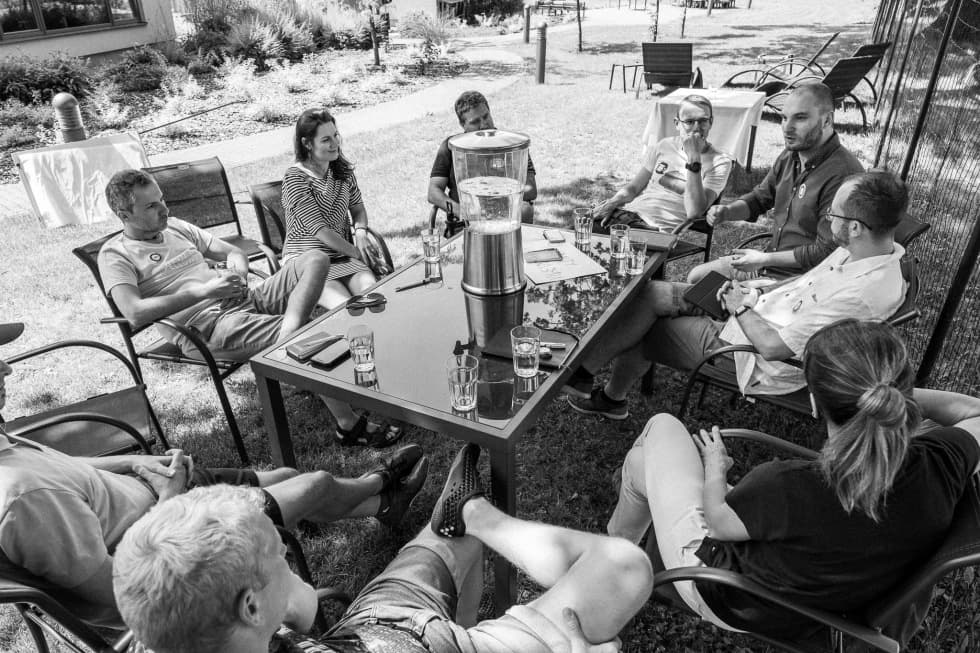 RB Equilibrium
A different kind of conference: we replaced the traditional speaker–audience format with a two-day event where people meet and connect.
We don't make a distinction between the audience and the speakers. We join our worlds and make space for new connections. That's the mission of 'Equilibrium', the annual meeting of Red Button network members and inspiring guests.
Two days of connecting, mutual inspiration, broadening of perspectives, and education. We learn from each other and find space for cooperation. Any network member can participate in the Equilibrium meeting, and they can invite someone from the outside. This way, people from the network can meet their counterparts from the network as well as interesting guests from the outside. Facts and figures
Equilibrium has been running since 2016, and there are more than 50 guests every year. The entire two-day event has six sessions on specific topics that are decided in advance.
Topics
New topics and issues are discussed every year. We talk about clearly defined topics and the most pressing issues in the sessions while broader subjects are discussed in free discussions. What were the topics this year?
DECENTRALISATION
How to decentralise an organisation without getting lost in the process?

DIVERSITY
How to connect people and competencies from different "bubbles" – diversity from all perspectives.
EDUCATION
How to improve the physical and mental self – educating others and yourself.
BRINGING UP
CHILDREN
How to raise children in the 21st century

HUMANITY VS PERFORMANCE
How to find balance in a culture of freedom, professionalism, humanity and performance
NETWORK COOPERATION
How does Red Button work and how to cooperate in the network?
PHOTO GALLERY
There is enough space for group discussions as well as face-to-face talks at the meeting.
This is how new connections and cooperation begin.